We are excited to announce Duncan Duncan Workshop/Performance in Paris this summer!
I am planning to teach 3 days and at the end of the workshop, I will present the performance with pianist Eriko Tokaji and one of my dancer Amber Sky from San Francisco.  I will also encourage committed students to join us in the performance.
Hope you can come to Paris, France!
Mary Sano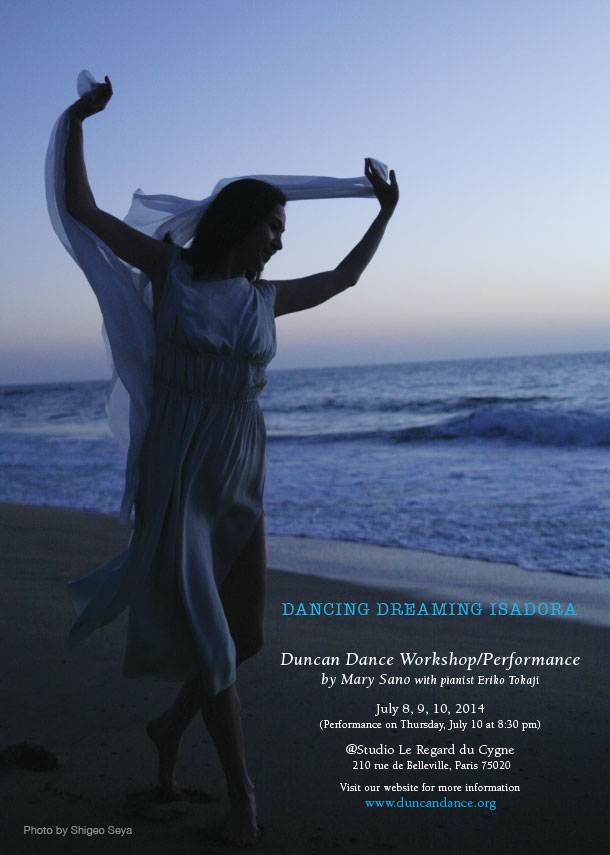 Place:  Studio Le Regard du Cygne
210 rue de Belleville, Paris 75020
Day/Time:  Workshops – Tuesday, July 8 (7:30-10 pm), Wednesday, July 9 (8-10 pm), Thursday, July 10 (7:30-10 pm)
Performance – Thursday, July 10 at 8:30 pm
Tickets/fees:  55€ for all 3 day workshops and performance
Each workshop (drop-in) – July 8 &10…25€, July 9…20€
Performance….10€
*To register and reservation for the performance:  Please send us email to info@duncandance.org